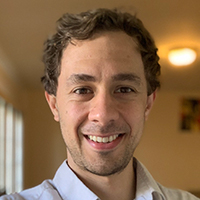 My name is Dan Weisman, I am a freelance 2D character animator, motion graphics artist, video editor, illustrator and web designer. I graduated from UCLA earning an MFA in Film and Television with an emphasis in animation. I have created several award winning animated short films and TV pilot episodes. I have produced a range of high quality motion graphics and designs for universities, corporations and small businesses.
I have an extensive knowledge of the Adobe Creative Suite, with an emphasis on Animate, After Effects, Photoshop, and Dreamweaver. For the past two years, I worked full time as a video editor and designer at UCLA, creating infographic style animations with Photoshop, Animate and After Effects for use with online class lectures in a range of classes. I also used Animate and Maya to create graphics and animations for the promotion of research papers at the California Nanosystems Institute, helping present their complex scientific discoveries in a form for general audiences.
I was the teaching assistant for the Interactive Animation class at UCLA, where I taught graduate level animation majors how to code and create their own videogames. I also used Dreamweaver to design and code a number of mobile adaptive websites for various clients, including a clothing line, a music management company, a Sundance short film, and this very site!
I hope you enjoy my work, and thank you for visiting!